Chocolate Fire Salt Rub For Hot Wings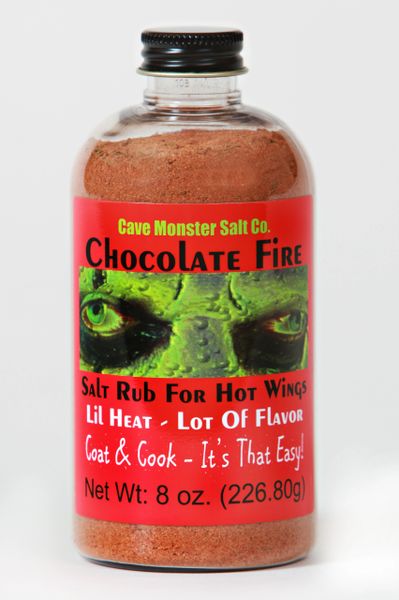 Chocolate Fire Salt Rub For Hot Wings
Spicy Chocolate Seasoning Rub for juicy, delicious cuts of Chicken and Pork.
This is a generous 8oz bottle. Great Value! (Each Chocolate Fire Bottle will season about 10 pounds of wings)
Just enough heat to be interesting.
Baking fuses the spices together to keep moisture in.
Great for Tailgating, Parties or Family Movie Night!
Easy to make! Just Season the night before and bake when you're ready!
It's One Monster Rub!
$7.00 Flat Rate Shipping via USPS Priority Mail

FREE SHIPPING on orders over $35
This is not a finishing salt and relies on heat to blend the flavors together. Just toss to coat and bake in the oven. It's that easy!
We hope you love this rub as much as we do!
Check out the Happy Cookers tab for cooking tips and recipes.

Happy Cooking!
All Cave Monster Salt Co. Rubs and Salt Blends are gluten-free.
Ingredients: salt, sugar, paprika, cocoa, onion, cayenne pepper, garlic, chipotle chili pepper, smoked paprika, parsley, celery seed, cinnamon, cumin, turmeric, mustard powder and cardamom.
Each recyclable bottle has a net weight of 8 oz.
*Please Recycle*
Cave Monster Rubs far surpass anything else that we've tried!
Thankfully we've found a product that actually compliments the meat rather than overpowers it!
We love using these rubs in our smoker! Connor, Los Angeles, CA

OH MY GOD! CHOCOLATE FIRE ROCKS.....CASE CLOSED! I WAS GOING TO SHARE BUT I'M GONNA EAT THE WHOLE 3 POUNDS OF WINGS MYSELF! Charles, Halethorpe, Maryland
We tried the Fire Rub on wings this weekend using your recipe. The BEST wings I have ever had! My husband is also a huge fan! Unbelievably delicious and unique flavor! Devin, Norfolk, CT