Mocha Salt Rub For Steaks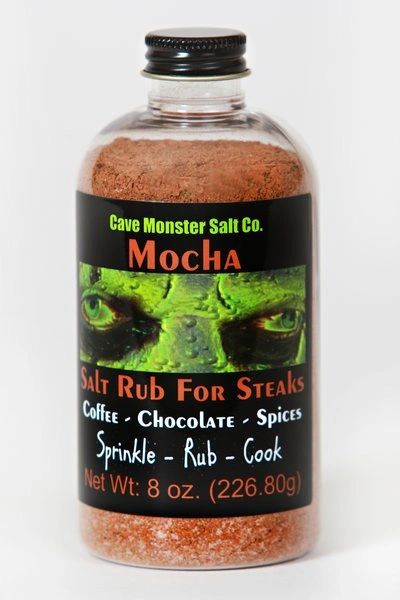 Mocha Salt Rub For Steaks
A blend of Rich Coffee, Delicious Chocolate and Flavorful Spices adds layer upon layer of smooth flavor to enhance your favorite cut! (You had me at Coffee and Chocolate!)
The flavor is smooth, savory and complex. A taste indulgence!
This rub is excellent paired with your favorite Red Wine.
Also a fan favorite on Lamb, Salmon, Chicken, Pork and of course other cuts of Beef, such as London Broil, Tri-tip and Hamburgers.
It's One Monster Rub!
$7.00 Flat Rate Shipping via USPS Priority Mail

FREE SHIPPING for orders over $35
*Note to California Residents* Mocha Salt Rub For Steaks contains coffee and as per Prop 65, coffee has been added to the list of chemicals that could be dangerous to your health.
This is not a finishing salt and relies on heat to blend the flavors together. Just sprinkle, rub and cook. It's that easy! We hope you love this rub as much as we do!
Check out the Happy Cookers tab for cooking tips and recipes.
Happy Cooking!
All Cave Monster Salt Co. Rubs and Salt Blends are gluten-free.
Ingredients: salt, sugar, onion, cocoa, garlic, coffee, paprika, smoked paprika, coriander, chipotle chili pepper, parsley, celery seed, turmeric, thyme, sage, cinnamon, cumin, rosemary, oregano and basil.
Each recyclable bottle has a net weight of 8oz.
*Please Recycle*
We were blown away with the Mocha Salt Rub! It is just incredible! I will always stock my pantry with this rub!
Then we tried the Chocolate Fire Salt Rub for Chicken Wings and we were so amazed at how delicious this rub was!
It is so delicious! All the flavors of the spices are just fantastic and so different from other rubs we have tried.
I will keep this on hand so I can always pop a batch of wings in the oven. Nancy, Anchorage, Alaska
Your Spices are the Bomb! Kirk, Oahu Hawaii
OMG! Both Rubs are so good! I've already given your website to friends of mine! Kim, Mission Viejo, CA